3 May 1949 – 18 January 2014
A celebration of Mike's life and his contribution to the band.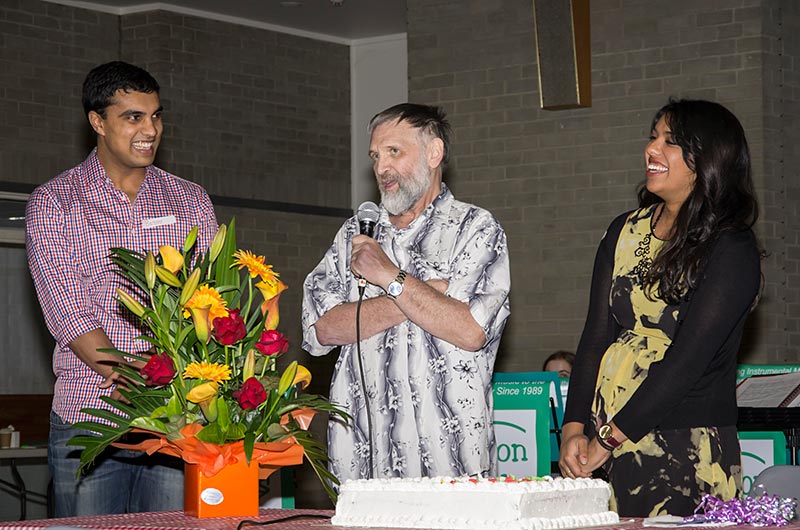 Mike was a keen performer with Weston Winds and was Musical Director from 2007 until late 2013. After 2 months in Canberra Hospital Mike lost his battle with pancreatic cancer and passed away in the early morning of Saturday 18th January 2014. In the last few weeks of his life Mike produced another original composition for Concert Band and Panpipes. Mike had a long musical career and the following two articles give some insight into his approach to music and helping others in their love of music. The articles have been published elsewhere and are kindly provided by Betty Knight and Bob Burne.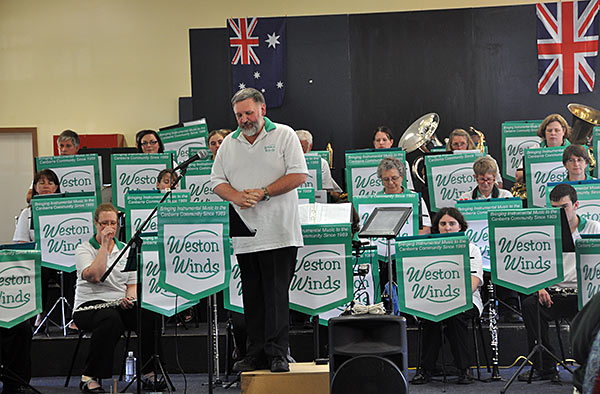 Betty Knight
Weston Winds member and longtime colleague.
Shortly after Mike was diagnosed with pancreatic cancer he and I sat down to have a chat about things in general and what would be happening to him in the near future. In particular we discussed his legacy to Weston Winds, the importance of that legacy and how he felt about it. Mike felt proud of his contribution to the Band, especially building on the willingness and ability of its members to move beyond traditional concert band genre. This adaptability is reflected in recent pieces drawn from Bollywood, orchestral classics, quarter tone and other modern composition such as Cirque de Soleil. While these were challenging in their own ways, their inclusion in our weekly rehearsal repertoire led to an overall improvement in members' sight reading capability and confidence.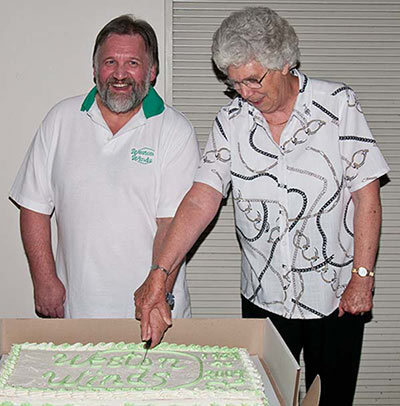 Mike's determination to overcome personal difficulties certainly came to the fore at the Band's 20th anniversary concert in 2009. After three months in hospital recovering from a very severe stroke and still needing a lot of rehabilitation, he conducted the Weston Winds march – after all, he'd spent most of his time in hospital planning this event and had to conduct from memory because he was unable to turn the pages of the score.
In conclusion, I would like to say thanks to a very special person I have been proud to know and work with for the last 20 or more years. Over the years, I found Mike to be very generous with his time and support and (with his permission) have decided to establish an annual award. It is to be known as the Mike Gossage Memorial – or MGM as he liked to think of it. When asked if he had any particular wishes about this I was told to "use this as an occasion to find new ways to improve the band" – by this I felt he meant acknowledging someone who has made a significant contribution to the overall improvement of the band in the previous 12 months. I have yet to make a formal proposal to the committee, so I guess details will be made known at a future date.
Bob Burne
National Capital Orchestra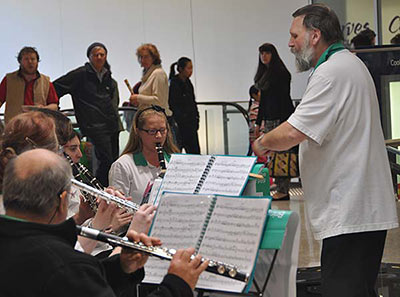 Mike Gossage was born in England in 1949 and as a boy enlisted in the British Army to gain a musical education. He became a violinist and cornetist with the Orchestra and Band of the Royal Artillery. Mike joined the Canberra Community Orchestra (the National Capital Orchestra's former name) in the 1990s and did a great deal to lift both the standard of musicianship and quality of our repertoire. MIke served as the Orchestra's secretary in 1995-95 and president in 1995-97. In 1998, while serving as vice president, Mike resigned from the Orchestra over a matter of principle. Despite strenuous efforts by his friends in the Orchestra to have him withdraw this decision, Mike considered the issue too significant for him to consider reversing his decision. This unfortunate matter is described in some detail in Colin Watson's excellent 2004 volume, "The Canberra Community Orchestra – the first twenty years 1983-2003".
After leaving the Orchestra he dedicated himself to other areas of community music in Canberra, including his very successful string quartet and as a trumpet player with Black Mountain Brass and Weston Winds. He took over Directorship of Weston Winds following the death of Les Smith and oversaw its further development into an excellent and cheerful wind band. A few years ago he suffered a serious stroke but, although the lasting effects prevented him from playing the violin, he did return to trumpet playing and conducting. While in Canberra he did a great deal of tutoring in both computing and music theory and has left behind a very large body of students who have benefitted from his patient teaching.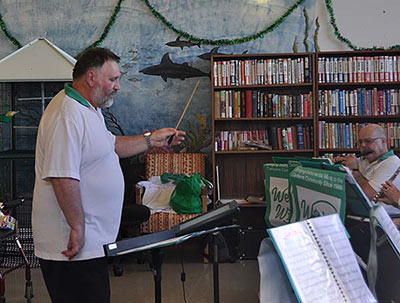 Mike left his body to science, but because of the holiday season nowhere was able to accept this gift, so he was privately cremated on January 25 2014